Cricket's Café News

Celebrate Cricket's 4th Anniversary
10/1/2012
Celebrate Cricket's 4th Anniversary by joining 84WHAS' Mandy Connell LIVE at Cricket's Cafe' for the inaugural Share the Warmth drive to help the homeless this winter.
Friday, October 5th from 9am-Noon
Throughout the month of October, drop your new or slightly used blankets, coats, sweatshirts, and other warming items off at Cricket's Cafe'
Related Download: Download Flyer
---
Gluten Free Breads
9/18/2012
Crickets now has Gluten free bread!!!
---
Cricket's Cafe Summer Menu
5/31/2011
Cricket's Cafe New Summer Menu!!
---
Don't give up on New Year's Diet just yet.
1/13/2011
---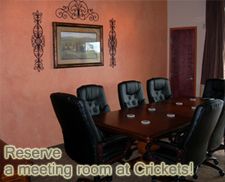 Meeting Facility
1/13/2010
Let Cricket's Host Your Next Meeting! See Website for more details or call today.
---
Welcome to Cricket's Cafe
1/7/2010
Come into Cricket's Cafe on this snowy day and warm up with a hot cup of coffee. Try our Signature Tomato Basil Soup also served today is our Broccoli Cheese & Bean Soup. Daily Breakfast & Lunch Specials.
---