About Us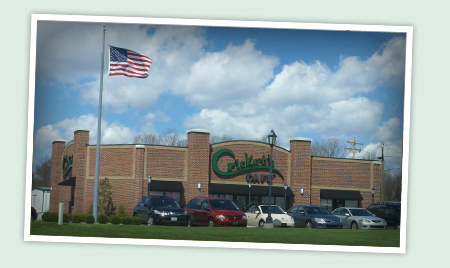 Cricket's Café started out in 2005 as Weezie's Cup A Java. We began with the idea of a coffee shop that quickly turned in to a café. We were located in the middle of a strip mall. With only 1200 square feet there was no room for a drive-thru or to grow. Having been a Registered Nurse for 13 years I had met many RN's who had become Pharmaceutical Reps. They were always in need of meals for MD offices and hospitals. That is when we started our Box Lunch Menu & Breakfast Catering. That same time we also launched our kiosk at Ivy Tech Community College. We have been serving their Faculty & students since 2006.
In January, 2008 I bought out my partner and changed the name to Cricket' Café. I purchased some land and began the design of a new building. The building was designed by my husband and I at our kitchen table over many nights of erasing until we were both satisfied with the inside and outside layout of the building.  The outside design fell into a sort of lifestyle center setting with old world street lights surrounding the building and accenting the outdoor seating. While the colors all complement each other in a Tuscany kind of way with music softly playing in the background. This Tuscany style impression overflows into all customer viewing areas to include the café, meeting rooms, kitchen and even the powder rooms that also reflect a sense of humor. We broke ground in June of 2008 and opened our doors for the first time on October 6, 2008. In our new location we were able to provide more seating  in the café,  more in depth menu, Drive-thru, Off site catering, corporate meeting facility, with meals if desired, Hi –definition projectors in all three meeting rooms, power point accessories, screens & wireless internet.
Cricket's environment provides a place for all to enjoy their favorite cup of coffee, breakfast, pastries, dessert or lunch. Whether you are; part of an event, trading in the office atmosphere for the café setting, meeting with friends or just surfing the internet. Cricket's is here for your convenience.